Most Blue Skies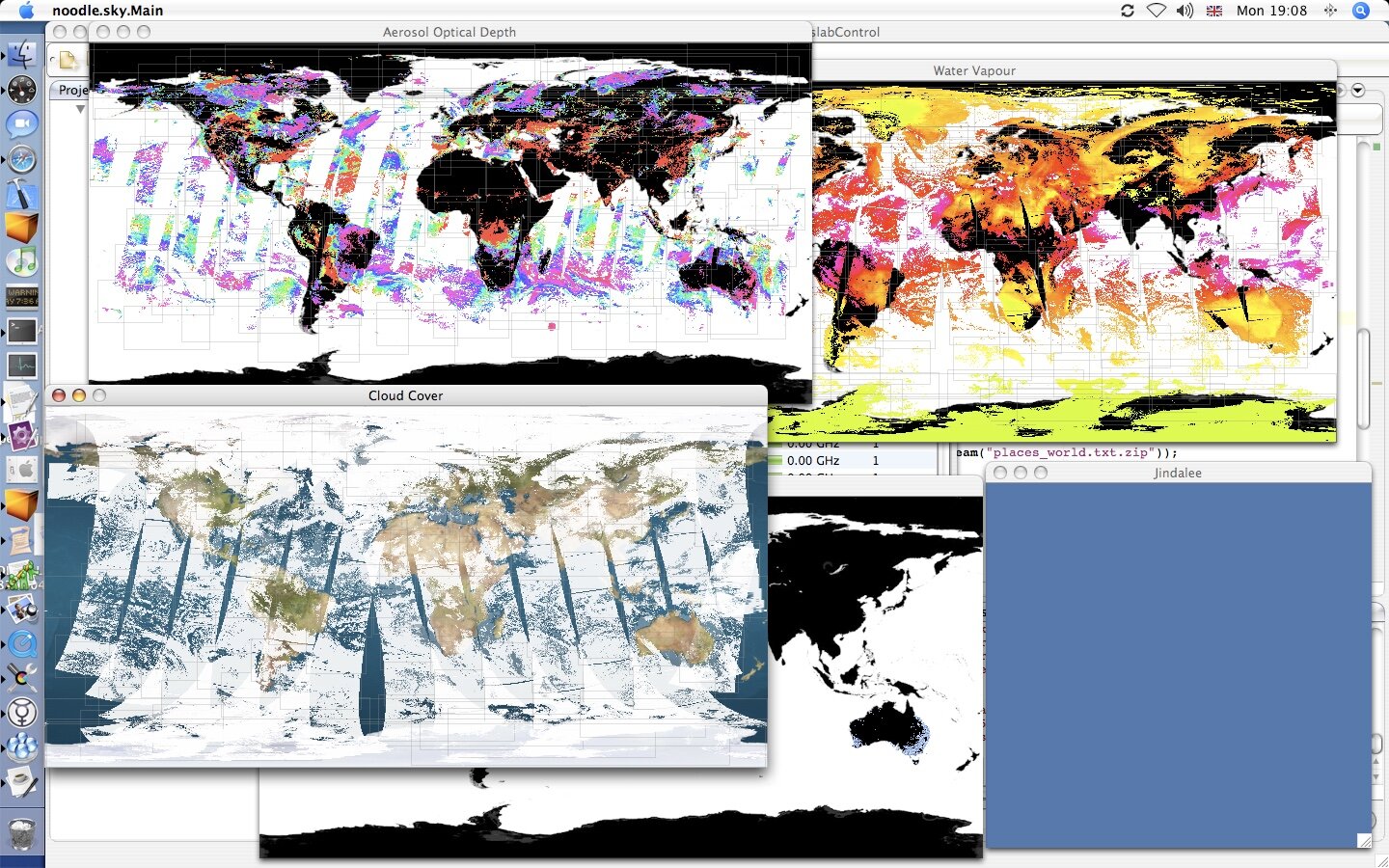 Most Blue Skies is a computer generated installation by Joshua Portway and Lise Autogena that attempts to find "the bluest skies" in the world. I worked as Chief Programmer on this project.
Most Blue Skies used several datasets from NASA's MODIS and MISR satellites. This data is processed and combined with several fixed geographic and land-use datasets and then input to Christ Gueymard's SMARTS atmospheric radiative transfer model to produce photon energy levels at different wavelengths. These energy levels can then be converted into another color model, such as RGB for display output. Within the gallery space, several computers continuously download and process satellite data as it becomes available. That data is streamed to another bank of computers that continuously run the light scattering simulation software to recalculate sky colours across the world as fast as possible. Visitors can see the "bluest" sky in the world recreated within the gallery or view the current sky colours of any places they know.
The first iteration of Most Blue Skies was commissioned for The International Gwangju Biennale, South Korea in 2006.
Most Blue Skies II was commissioned for the COP15 UN Climate Summit, RETHINK CLIMATE (Rethink Kakotopia), Nikolaj Copenhagen Contemporary Art Centre.
For the first showing of Most Blue Skies, a DMX controlled RGB stage light was used to project the sky colour onto a large freestanding square wall within the gallery space. Visitors could walk behind the wall to view the bank of colour-calculating computers and view a map of current sky colours across the Earth.
For Most Blue Skies II, a cluster of once discarded PCs continuously worked within the gallery space to process the satellite data and calculate sky colours. A powerful LED light was constructed and set into a window-pane type setting within the centre of the gallery space.